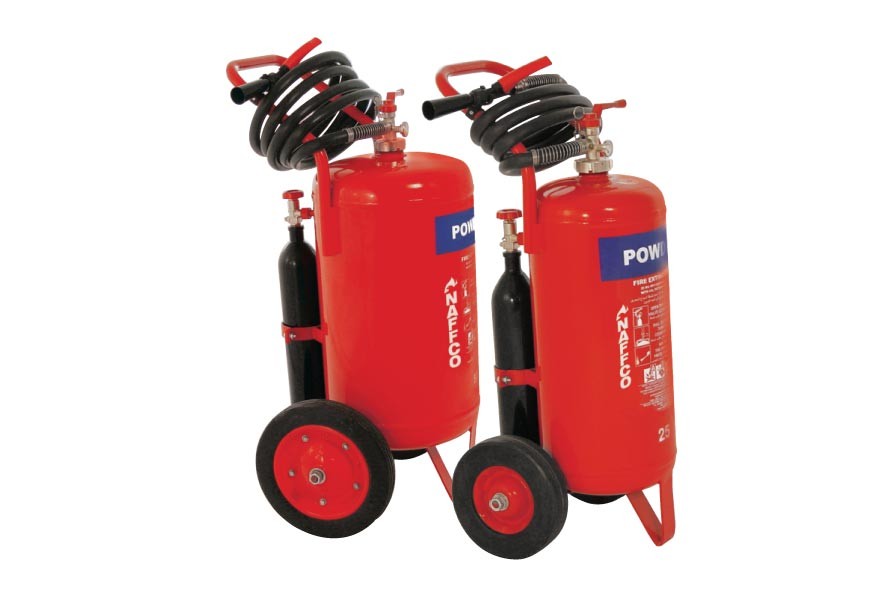 SPECIFICATIONS
Model

NTDPC25

NTDPC30

NTDPC50

NTDPC75

NTDPC100

Extinguisher capacity

25kg
30kg
50kg
75kg
100kg

Fire rating

34A IB
34A IB
34A IIB
34A IIB
34A IIB

Working pressure

15bar

Test pressure

30bar

Total weight

60kg
68kg
102kg
144kg
175kg

Range of discharge

7-9m
7-9m
7-9m
7-9m
7-9m

Duration of discharge

25-30 sec
30-35 sec
40-45 sec
55-65 sec
85-90 sec

Operating temperature

-20°c to + 60°c

Hose length

3m
3m
5m
7m
7m
Features :
Ready for instant use and simple to operate.
Fully controlled and easy operation by rust free brass valve.
Cart and cylinder are made of rugged steel and welded to meet extreme use conditions.
Easily transportable.
Incorporated with high pressure external co2 cartridge.
Electrostatic powder painting after shot blasting ensures maximum corrosion resistance.
Options :
Special NTDPCS-CD(X) Series with metal dry powder for Class D fire of Magnesium, Sodium, etc.
Special NTDPCS(X) Series with Sodium Bicarbonate for Class B & C fires.
Special NTDPCS-M(X) Series with monnex powder for Class B & C fires.
Special NTDPCK-(X) Series with stop fire K for Class B & C fires.
Special PVC internal coating
Applications :
NAFFCO mobile fire extinguishers are manufactured to provide protection for hazardous
Areas where the potential for large fire exists. Typical applications include: paint spray booths, dip and quench tanks, offshore platforms, loading racks, fuel storage areas, airports, and heavy manufacturing operations.