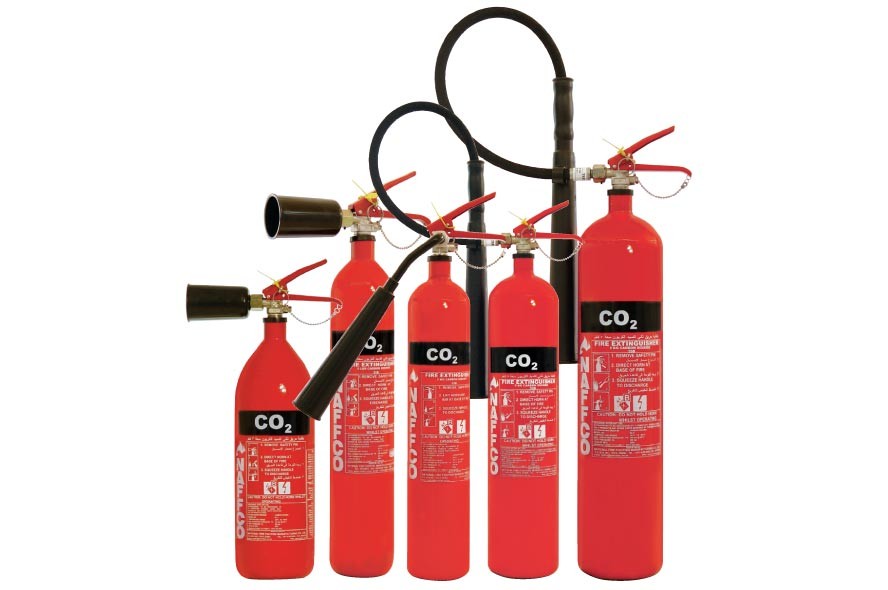 SPECIFICATIONS:
Model

NC2

NC5L

NC3

NC10L

NC5

NC6

Extinguisher capacity

2kg
5lbs
3kg
10lbs
5kg
6kg

Fire rating

34b
34b
34b
55b
55b
70b

Test pressure

250bar

Total weight

8.1kg
8.3kg
11.0kg
15.5kg
17.0kg
18.5kg

Range of discharge

4-5m
4-5m
4-5m
4-5m
4-5m
4-5m

Duration of discharge

8sec
10sec
10sec
12sec
13sec
15sec

Height with valve

63cm
63cm
64cm
68.5cm
73.5cm
83.5cm

Hose length with horn

-
-
-
75cm
75cm
75cm

Operating temperature

-20°c to + 60°c
Description :
Carbon dioxide gives fast, safe and effective protection for fires involving electrical equipment and flammable liquids. CO2 is recognised for its non-damaging, highly effective performance and cleanliness. They are generally suited for indoor use, making them ideal for today's office environments.

Features :
Simple operation and maintenance.
Exceptionally effective on class b, c, & electrical fire.
Portable and compact design.
56 bar working pressure at 20oc for maximum fire fighting performance.
Cylinder deep drawn for higher tensile strength.
Cylinder made of special steel to withstand high pressures, tested at 250 bars.
High-grade brass head assembly ensures reliability and optimizes efficiency.
Unbreakable rising pipe made of aluminium to ensure long lasting life.
High gloss polyester powder painted uv stabilized after shot-blasting ensures corrosion resistance under extreme condition.
Safety valve is fitted in each extinguisher for maximum safety.
Discharge nozzle designed to produce a jet of extinguishing gas for fast fire suppression.
Special hangers for wall mounting.

Applications :
Flammable liquid storage areas
Food storage and processing plants
Airports
Telephone equipment rooms
Data processing centres
Engine rooms
Chemical plants and laboratories
Quench tanks
Petrochemical industries
Spray booths
Electrical control panels
Control rooms