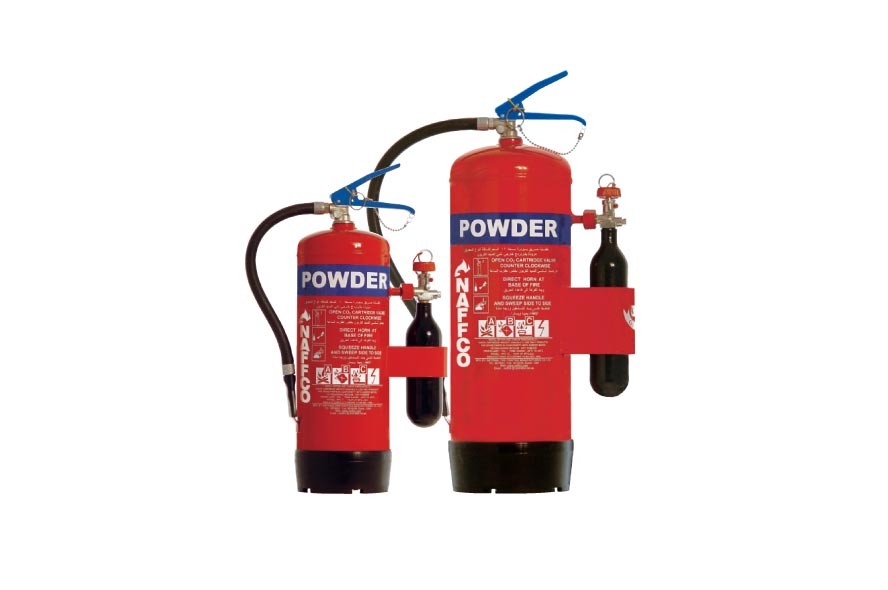 SPECIFICATIONS
Model

NPC6

NPC9

NPC12

Extinguisher capacity

6kg
9kg
12kg

Fire rating

21A 113B C
27A 144B C
43A 183B C

Working pressure

14 bar

Test pressure

30 bar

Total weight

11kg
15kg
18.9kg

Range of discharge

6-8m
6-8m
6-8m

Duration of discharge

14-16 sec
16-18sec
18-22 sec

Operating temperature

-20°c to +60°c
Features :
Rugged, durable, reliable fire protection.
Highly effective on class A, B, C & electrical fires.
Incorporated with high pressure external co2 cartridge.
Easy maintenance.
Field rechargeable.
Simple and safe operation.
Safety valve is provided on the cartridge and the main valve to ensure maximum safety.
Electrostatic powder painting after shot blasting ensures maximum corrosion resistance.

Options :
Special NPCS-CD(X) series with metal dry powder for CLASS-D fire of magnesium, sodium etc.
Special NPCS(X) series with sodium bicarbonate for CLASS-D & c fires
Special NPCS-M(X) Series with monnex powder for Class B & C fires
Special NPCK-(X) Series with stop fire K for Class B & C fires
Special pvc internal coating
Plastic base

Applications :
External cartridge extinguishers are designed for the protection of ordinary and high risk hazards. It can be used for reliable fire protection in many industries and applications including refining, petro-chemical, oil and natural gas production, mining, transportation, utilities, metal processing, paint process areas, welding areas, material storage areas and many others.