Home Page » Fire Extinguishers » Portable Clean Agent (HFC-236fa) Fire Extinguishers
---
Portable Clean Agent (HFC-236fa) Fire Extinguishers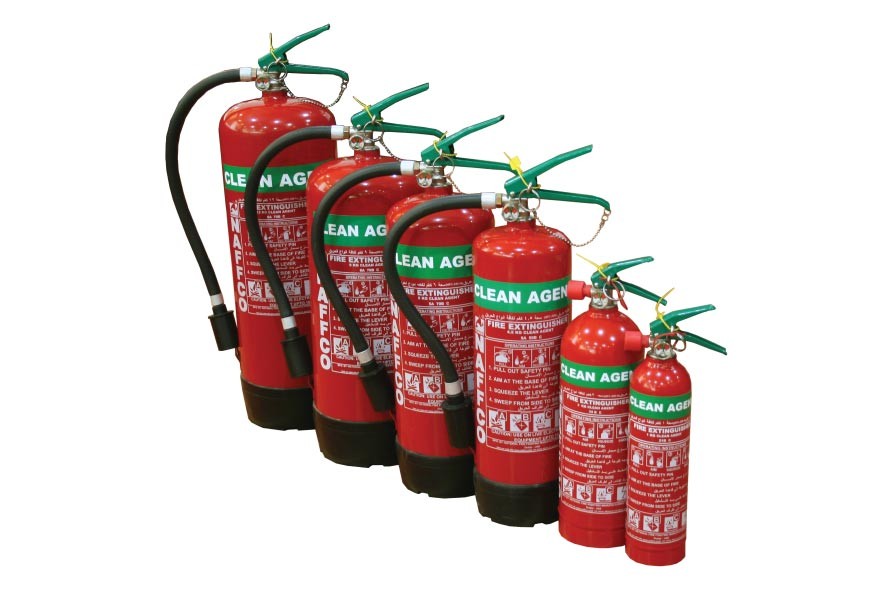 Product description :

NAFFCO clean agent extinguishers have an effective extinguishing action, environmentally acceptable and excellent alternative for Halon 1211.
Clean Agent (HFC-236fa) is a non corrosive, electrically non conductive and free of residue.It is ideally
suited for protecting high value equipment.

Specifications :
Model

NHFC-1

NHFC-2

NHFC-4.5

NHFC-6

NHFC-9

NHFC-12

Capacity of Extinguisher

1 Kg
2 Kg
4.5 Kg
6 Kg
10 Kg
12 Kg

Working Pressure

14 Bar
14 Bar
14 Bar
15 Bar
15 Bar
15 Bar

Test Pressure

30 Bar
30 Bar
30 Bar
30 Bar
30 Bar
30 Bar

Valve

Brass, Nickel Plated

Rising Pipe

Aluminium

Total weight

1.9 Kg
3.5 Kg
8 Kg
10 Kg
15.5 Kg
18.5 Kg

Range of discharge

3 - 4 M
4 - 5 M
5 - 6 M
6 - 8 M
6 - 8 M
6 - 8 M

Operating Temperature

-10?C to + 60?C
Features :
Safe for People: It is indented for use as a streaming agent providing a gas concentration sufficient to prevent as or extinguish a fire.It is safe for use in occupied spaces.
Safe for Assets: It is electrically non conductive, non corrosive, and free of residue. As a gaseous agent, it targets the flame and prevents or extinguishes the fire.Operations can resume quickly, particularly if early detection methods are in use.

Safer for the Environment: It does not contain chlorine or bromine, and has zero ozone depletion potential. Like many fluoride-based gases, HFC-236fa has some global warming potential.

Clean Agent Hexafluoropropane Gas based Extinguishing Agent capable of fighting class A, B & C Fire.

Manufactured according to standards as per BSEN3.

CE Approved Fire Extinguisher Assemblies (Optional).

High Performance Extinguishing Agent.

High Quality Polyester paint.

Clean agent, Electrically Non conductive, low in toxicity.

Controllable discharge.

Brass Nickel plated head valve with simple squeeze operation.

Unique gauge testing system.

Environmentally friendly, zero ozone depletion potential.

Rechargeable & easy to service.