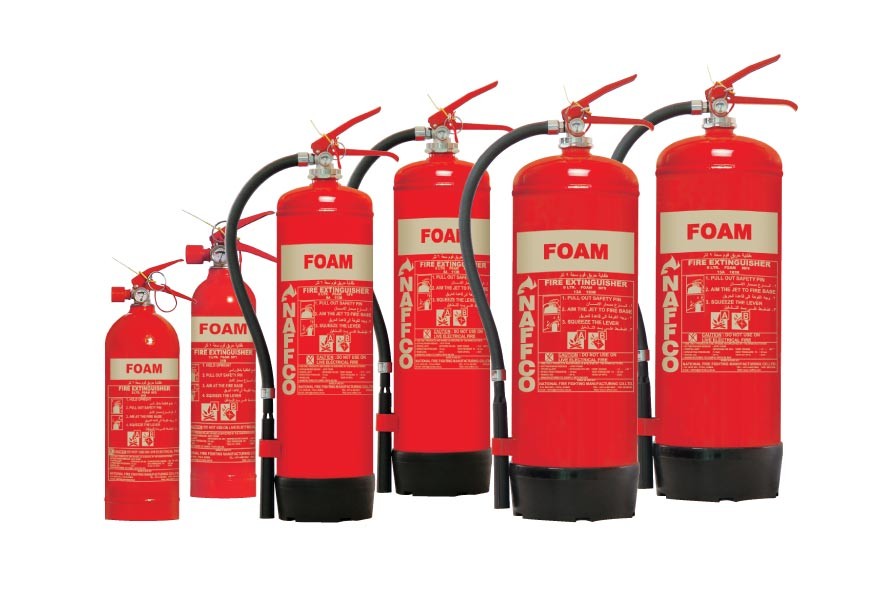 Specifications :
Model

NF1

NF2

NF3

NF6

NF9

NF10

Extinguisher Capacity

1Litre
2Litres
3Litres
6Litres
9Litres
10Litres

Fire Rating

21B
34B
13A 89B
8A 113B
13A 183B
13A 183B

Working Pressure

14Bar
14Bar
14Bar
15Bar
15Bar
15Bar

Test Pressure

30Bar

30Bar
30Bar
30Bar
30Bar
30Bar

Total Weight

1.8Kg
3.7Kg
6.0Kg
11Kg
15.5Kg
16.5Kg

Range of Discharge

2m
2m
4m
6-8m
8-9m
9-10m

Duration of Discharge

7-9Sec
8-12Sec
14-16Sec
16-20Sec
22-24Sec
28Sec

Operating Temperature

+ 5°C to + 60°C
DESCRIPTION :
AFFF extinguishers are suitable for both Class A & B fires. Foam has the ability to reduce the risk of reignition. Foam extinguishers combine the smothering effect of AFFF and the cooling and penetrating effect of water.

Features :
Ready for instant use.
Exceptionally effective on class A & B fire.
Portable and compact design.
Heavy duty steel cylinder.
Made of special CRCA sheet with Argon/CO2 welding process.
Simple operation and maintenance.
Cylinders are 100% factory tested to 30 bar.
Easy grip valve for comfortable operation.
Nickel plated Brass Valve with reliability and long life.
Rugged PVC pick up tube enables smooth flow of the agent.
Precision built mechanical pressure gauge.
Electrostatic powder painting after shot blasting ensures maximum corrosion resistance.
Internally coated with Polyolefin & thermosetting polymer powder using whirl sintering process.

Applications :
Flammable liquid storage areas

Ships

Airports

Chemical plants and laboratories

Quench tanks

Petrochemical industries

Solvents storage & processing areas

Spray booths