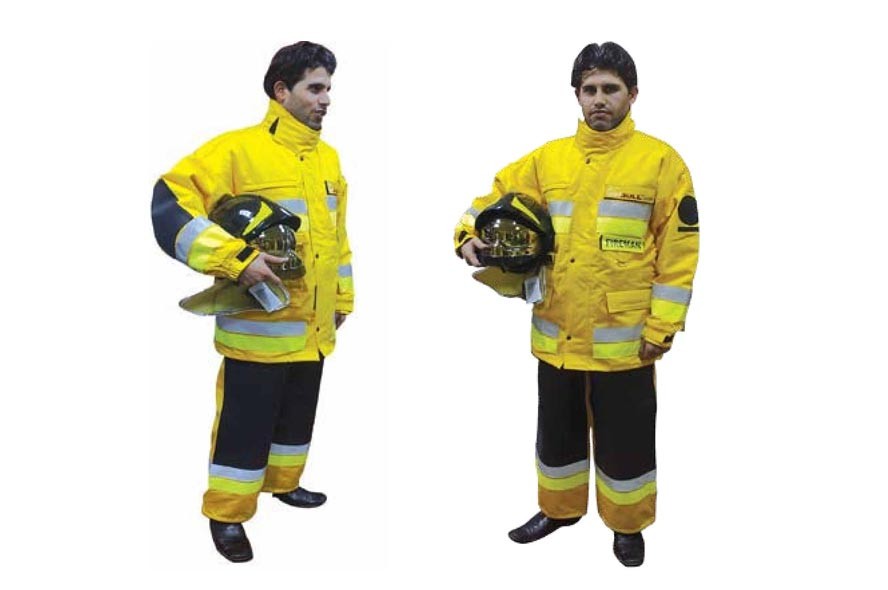 Comfortable and Advanced Fire Fighter Suits
Bulldozer Fireman Suits are made considering the rigorous demands of today's Fire Fighters and designed by the specialists in this field. The special clothing meets the requirements of personal protective equipments confirmed with International Certifications.
Clothing
The clothing consists of Jacket & Trousers with insulation layer. The Jacket and Trousers are equipped with retro reflective trims for high visibility. Detail description of the Jacket and Trousers in any of the compositions shall be given upon request. Care instructions shall be given separately.
Special Popular clothing
Cotton fabric 100% - Dl 0/2/150N assigned for protective clothing for the fireman, non­inflammable finish (Pyrovctex]. waterproof, oil proof, and surface mass 270 gsm, fabric made in CIBA-GEIGY technology, in possession of IS09001 and ISO 14001 quality certificates
Conformance
According to EN 469 after 5 washings including the penetration tests. EC marking is made on the inside against the inner line of the Jacket and on the upper part of the back of the Trousers. Requirement of EN340 for essential requirements and EN469 for Fire Fighters requirements
UL Listed / Design & Specifications
| | | | |
| --- | --- | --- | --- |
| Model Product | Fireman Suit | Material | Color |
| BDUS1/2-RE | Fireman Suit | Nomex | Red |
| BDUS1/2-BL | Fireman Suit | Nomex | Blue |
| BDUS1/2-BU | Fireman Suit | Nomex | Black |
| BDUS1/2-YE | Fireman Suit | Nomex | Yellow |
| BDUS1/2-0R | Fireman Suit | Nomex | Orange |
| BDUSP2-2-RE | Fireman Suit | Pyrovatex | Red |
| BDUSP2-2-BL | Fireman Suit | Pyrovatex | Blue |
| BDUSP2-2-BU | Fireman Suit | Pyrovatex | Black |
| BDUSP2-2-YE | Fireman Suit | Pyrovatex | Yellow |
| BDUSP2-2-0R | Fireman Suit | Pyrovatex | Orange |