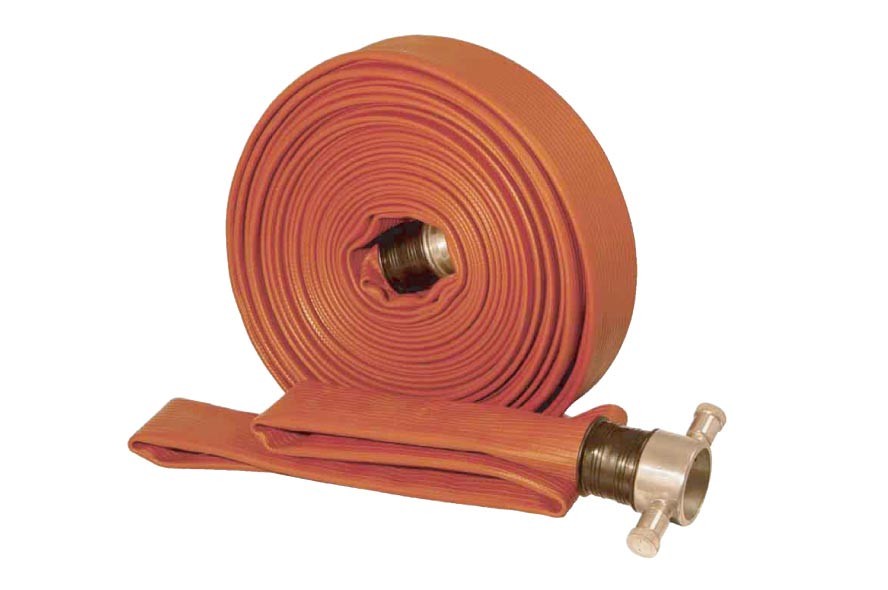 High Performance Fire Hose:
Duralex Series of Fire Fighting Hoses has smooth inner lining made of a special polymer which facilitates a very low friction. The overall construction is of high tenacity synthetic fibre circular woven seamless reinforcement and totally encapsulated in synthetic special polymer.

DURALEX TOP QUALITY FIRE FIGHTING HOSE:
Model No:
Diameter(inch)
Working Pressure
( Bar/Psi)
Burst Pressure
( Bar/Psi)
Standard Compliances/
Approvals
NF Duralex 65
2.5
17 / 250
50 / 725
UL 19, NFPA14/
UL Listed
Model No:
Diameter(inch)
Working Pressure
( Bar)
Burst Pressure
( Bar)
Manufacturing
Standard
Duralex Series
1-4
17
50
BS6391: 2009 &
DIN 14811
Features :
Fire Hose of BS 6391 Type 3/UL19 standards.
All-in-one construction from synthetic rubber with textile-re-inforcement locked in (Optional material:PVC).
Resistant to Kinking, Ozone, Ultra-violet, Weather, Heat and Delamination.
Hard wearing resistance to abrasion, oil and chemicals.
Maintenance free: Do not need drying.
Highly flexible and light weight.
Internal lining - High quality synthetic rubber (Optional Material: PVC).
External cover - High quality rubber with longitudinal ribs.
Warp made of high tenacity fibers.
Weft of multi-ply high tenacity fibers.
Special inner layer for chemical resistance and anti-ageing.
Smooth inner layer for low friction loss.
Outer ribs for better hose protection.
Specifications:
Available colors: Red
Standard lengths: 75ft,100ft, 200ft, Other lengths available upon request.
Applicable standards: BS6391 Type 3, DIN 14811 & UL 19
Applications:
Petroleum Refineries.
Oil & Gas Exploration Facilities.
Power Plants.
Ports & Docks.
Airports.
Commercial Complexes.
Residential Complexes.
Fire Brigades.