Home Page » Hoses & Accessories » Rack & reel hose
---
Rack & reel hose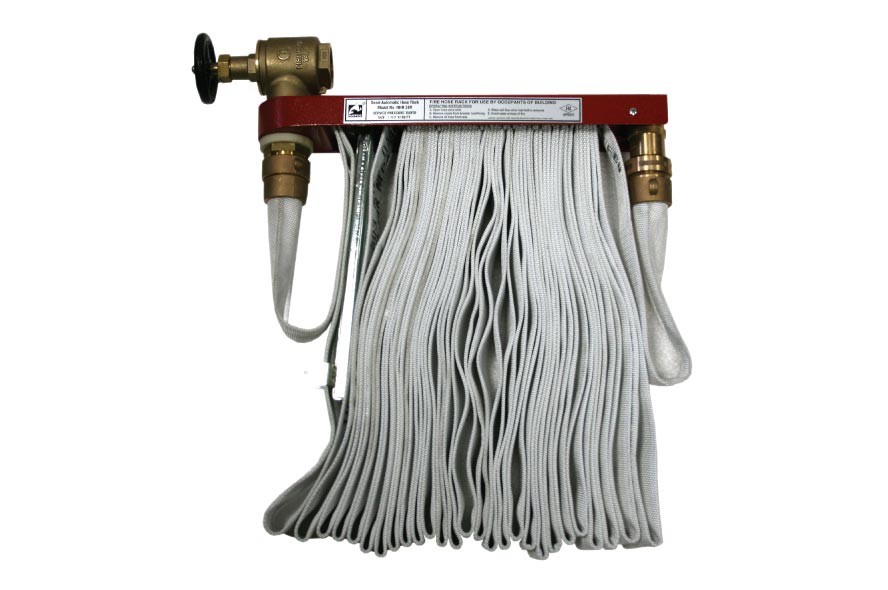 Fire hose rack :
NAFFCO Fire hose racks are designed for use in controlling incipient fire by building occupant use and conform s to NFPA 14 standards for CLASS II service. The Fire Hose Racks are manufactured to comply FM standard Class 2141.
Specifications :
Size
1-1/2"x30 MTR
Model
NHR 38V
Fire Hose Type
Single jacket, Light weight Thermoplastic lining with high tenacity filament polyester yarn, UL listed
Size & Color
1.5"x30MTR., White
Service Pressure
150 PSI
Proof Pressure
500 PSI
Burst Pressure
750 PSI

Couplings:

Type
1-1/2" NH Female Threaded Coupling, Brass

Angle Valve*

Working Pressure
300 PSI
Test Pressure
600 PSI

Nozzle

Inlet Size
1.5" Female NST Threaded
Discharge rate
(in full spray pattern)
130 ± 5GPM@100 PSI
* Pressure reducing Type available upon request
Features :
Hose rack frame material made of Stainless Steel Gr.304.
Provides an immediate water source for Fire suppression.
Easy operational for single person.
Hose rack is designed to hold the hose with movable pins for easy & quick operation at the time of Emergency.
An automatic release mechanism allows water to flow through the hose after removal of the hose and nozzle.
Standard assemblies include:
• Angle Valve or pressure reducing type valve (UL/FM approval) • Hose rack frame • Hose rack nipple
• Hose coupling • Fire Hose - 30 mtr. • Fog nozzle.
Hose rack frames are RED (RAL 3000) Polyester powder coated, oven baked.
Standards :
Fire hose manufactured to this specification shall meet & exceed all performance requirements of NFPA 1961, Underwriter's Laboratories.

The hose shall be UL approved and can be labeled upon request in the size specified **