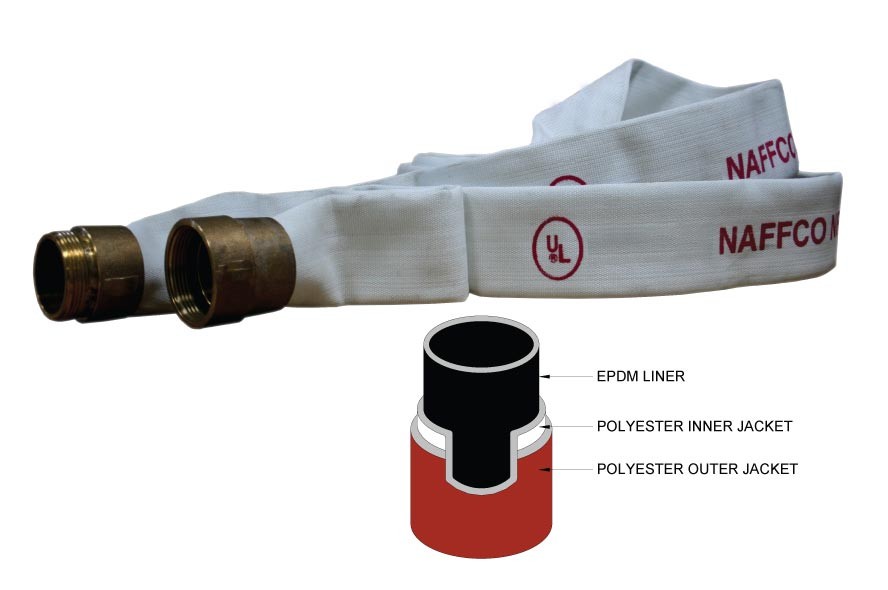 Fire Fighting Hose (3 layers) - Double Jacket
Model No:
Diameter(inch)
Minimum
Working pressure (Bar)
Minimum
Burst pressure (Bar)
Masnufacturing
Standard
D Syntex W
1.5 / 2 / 2.5
21
60
DIN / BS
Standards
D Syntex P
1.5 / 2 / 2.5
21
60
Applications:
Municipal fire brigades, Industrial fire Brigades.
The hose have better abrasion resistance than single jacket hoses and higher service test pressure.
Construction:

Double jacket, the wrap yarn shall consist of polyester staple, the filler shall be constructed of high strength, low elongation, filament polyester. The liner shall be a single ply extruded of EPDM rubber and adhere to the to prevent delamination. Hoses are available with polymer impregnation that provides additional abrasion resistance.

Coupling Available:

NST / NH threaded. Storz & instantaneous coupling or other type available upon request.