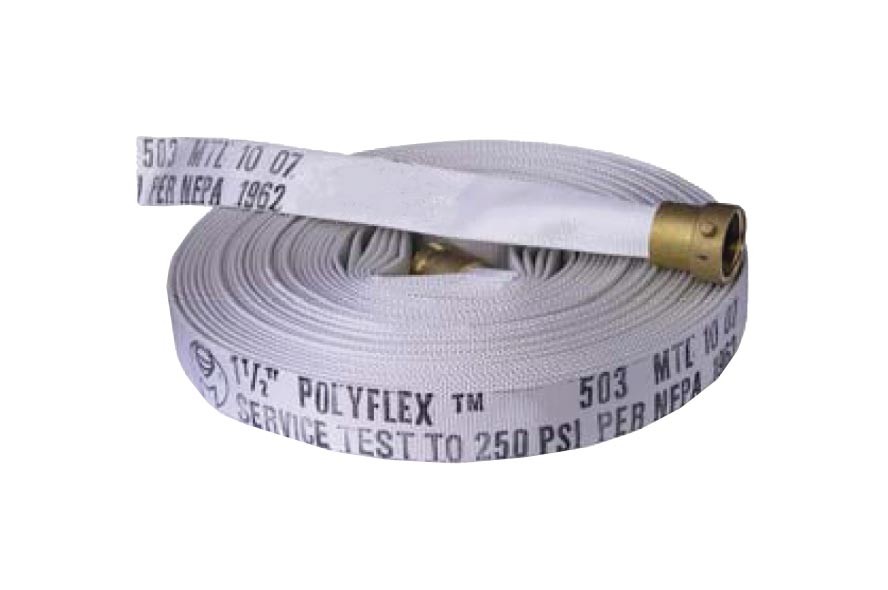 Synthetic, Single Jacket Fire Hose :
(250 PSIG / 1725 kPa Service Pressure)
Hose interior is all synthetic, light weight, and are UL/FM approved.
Applications :
Cabinet / Fire Hose Reel / Fire Hose Rack
Scope :
Hose manufactured to this specification are superior quality and workmanship. Lined fire hose for interior fire protection are light in weight and designed for emergency use only.
Construction and Features :
The hose is of single jacket construction.
The jacket is made with high tenacity filament polyester yarn in both the warp and weft directions,to provide maximum strength to weight ratio.
The hose is resistant to chemicals and petrol products, rot & mildew, hydrolysis, and resist deterioration due to exposure UV-rays and ozone.
Performance :
The hose, in all sizes, have minimum service, test, and burst pressures as specified in the technical chart.
The hose have a maximum flow with minimum friction loss.
The hose have no defects, dirt, knots, lumps or other irregularities affecting the performance of the hose.
The hose is resistant to kinking and remain flexible to -65°F(-53°C).
Twisting and warping are at least 100% better than required, by the applicable NFPA standards.