Home Page » Hose Reels & Cabinets » Fire Hose Reel
---
Fire Hose Reel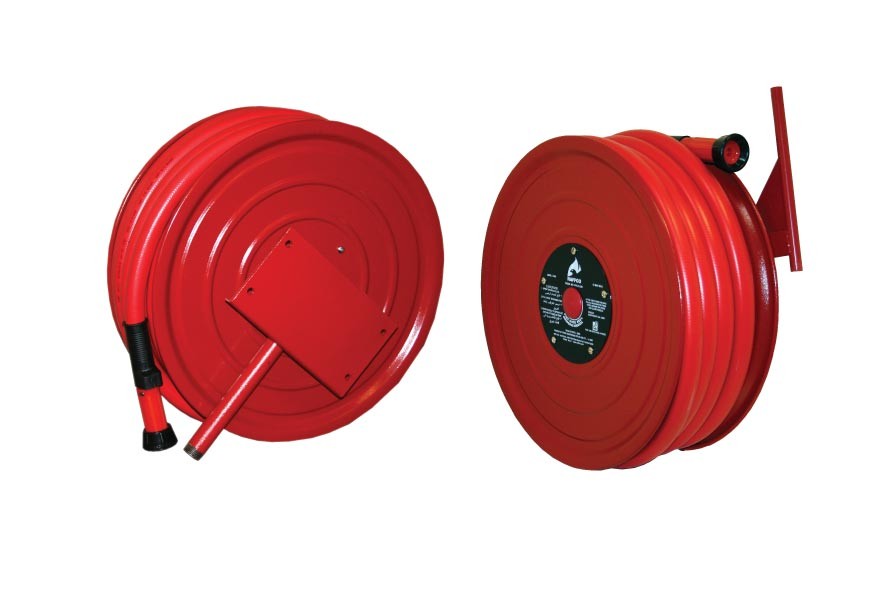 Design features :
Manufactured as per BS EN671-1 standard.
Hose reel discs are manufactured using 1.2mm electro galvanised steel sheets and has ribs that gave extra strength, which in turn avoid twisting.
Hose reel drum painted with red powder coating or chrome in stainless steel finish are available upon request
Plastic nozzle supplied has jet/spray/shut-off operations.
Chrome plated brass nozzle is available upon request.
Hose has working pressure of 12 bar and bursting pressure of 50 bar and it is red in color, black color also available upon request.
Inlet stop valve 1" size in made of brass and finished with chrome. Brass finish available upon request.
Each unit is hydrostatically tested at 18 bar.
For fixed hose reel, a hose guide could be supplied upon request.

Swinging hose reel is mounted on an arm which swings 180° and the hose can be run out in all directions without a hose guide.

In automatic models, the valve opens automatically within three revolutions of the reel.

Fire hose reel is an efficient and reliable fire-fighting unit suitable for use in all types of buildings.

The water is supplied through the center of the reel, so the unit is always ready for immediate use.
Specifications
Type

Model No

Size of Hose

Reel dia A (mm)

Depth B (mm)

Version

Fixed Manual
NFH-F-25M
25mm dia(1")Length=30M
550
285
Fixed
NFH-F-19M
19mm dia(¾")Length=30M
550
240
Fixed
Fixed Automatic
NFH-F-25A
25mm dia(1")Length=30M
550
285
Fixed
NFH-F-19A
19mm dia(¾")Length=30M
550
240
Fixed
Swinging Manual
NFH-C-25M
25mm dia(1")Length=30M
550
260
Arm Type
NFH-C-19M
19mm dia(¾")Length=30M
550
210
Arm Type
NFH-W-25M
25mm dia(1")Length=30M
550
275
Pipe Type
NFH-W-19M
19mm dia(¾")Length=30M
550
230
Pipe Type
Swinging Automatic
NFH-C-25A
25mm dia(1")Length=30M
550
275
Arm Type
NFH-C-19A
19mm dia(¾")Length=30M
550
230
Arm Type
NFH-W-25A
25mm dia(1")Length=30M
550
275
Pipe Type
NFH-W-19A
19mm dia(¾")Length=30M
550
230
Pipe Type