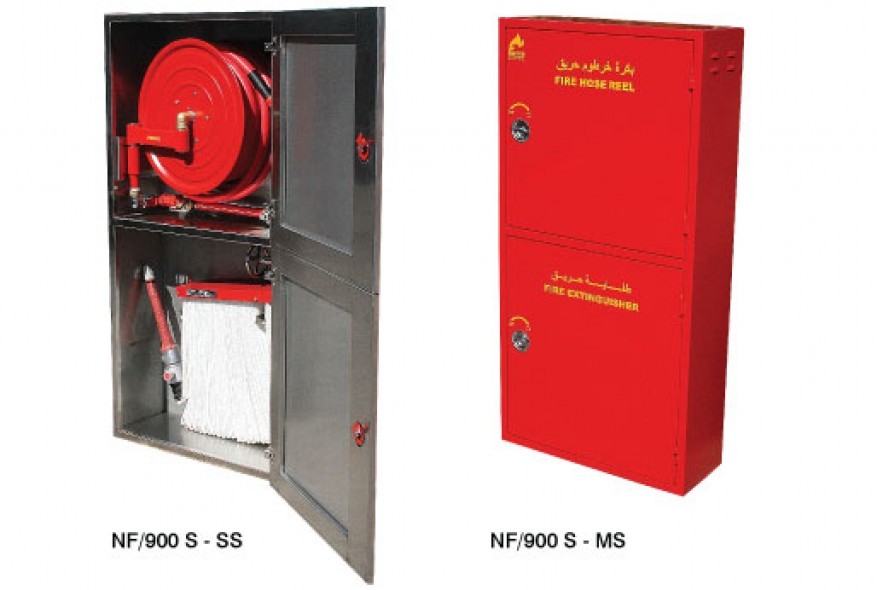 Design features :
Upper compartment specially designed for mounting swinging pipe type hose reels (size - 1" x 30 mtr. / ¾" x 30 mtr. / Manual or Automatic).
Lower compartment can accommodate the following:
Fire hose rack 1.5" x 30 mtr. / 2.5" x 30 mtr. with complete accessories or 2.5" x 30 mtr. lay flat fire hose + 2 portable extinguishers + 2.5" landing valve + nozzle.
Special hose reel mounting bracket with minimal cabinet depth.
Swinging pipe type hose reel can be mounted on either side of the cabinet based on the site condition/ riser access.
Inlet lock shield control valve, pressure reducing valve are fixed.
Cabinet can be with Door Made of Electrogalvanised Steel sheet / Full Stainless Steel sheet Brush or Mirror Finish.
Cabinet painted with Red (RAL 3000) electrostatic powder coating.
Other colors are available upon request.
Specifications
Model No

Dimensions in cms

Material of Construction

Cabinet Mounting

NF/900 S-MS
H=160 W=80 D=30
Electro-galvanised
Steel Sheet
Surface
Mounted
NF/900 S-SS
H=160 W=80 D=30
Full stainless steel,
Brush / Mirror finish
Surface
Mounted
Note :
For recessed cabinet the wall opening should be of 1 cm additional on all sides.